Sun Valley Heated Floors
Finding the Best Radiant Floor Heating System for Your Home
Given the characteristics and benefits of radiant heat, it should be no surprise that heated floor systems are becoming a popular heating option for businesses and homeowners alike. But it's also not uncommon for homeowners to choose radiant heat as a supplement to their existing home heating system. Many are choosing to install radiant heat under bathroom or kitchen floors while maintaining a traditional heating system.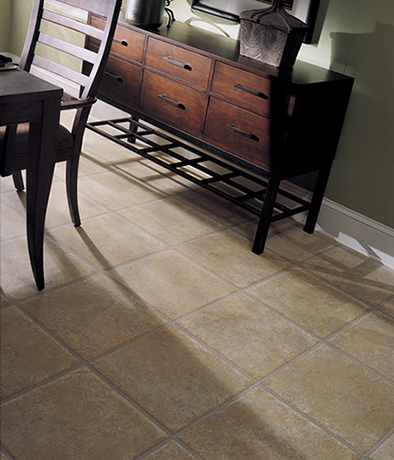 Some attractive features of radiant floor heating systems include luxurious warmth, energy efficiency and maintenance-free operation. As owners of radiant floor heating systems have attested, the warmth is something that needs to be experienced to fully appreciate, and nothing is finer than walking on warm floors during a cold winter day.
Warmzone offers only the most proven radiant floor heating options. And unlike most providers that only offer one brand or systems from a limited number of manufacturers, Warmzone offers a dynamic range of floor heating systems from several manufacturers. The systems range from traditional heat resistance cable to paper thin "film heating" elements and everything in between. We offer free consultation for customers interested in learning more about radiant heat, and what options would be best for them.
The most popular and versatile floor heating system is ComfortTile. This long-time radiant heat system features a heating element that consists of thin heat cable that is available on spools or in mats. The cable is barely 3/16ths of an inch in diameter, so it requires very little floor build up. CT heat cable is the optimum solution for heating tile, marble and slate floors, but it is also commonly under laminate floors as well. The heat cable is also commonly used with other systems as well, such as the Prodeso® floor heating membrane and HeatShield insulated floor heating panels. The cable is simply routed in the pre-configured channels of the membrane or heating panel to complete the system.
ComfortTile mats feature heat cable that is pre-spaced and affixed to a flexible mesh with an adhesive backing. The mats are rolled out across the area to be heated and then secured to the subfloor. The mats are available in a variety of lengths and heat areas 24-inches wide.
The In-Slab floor heating system features rugged cable that is designed for installation in new concrete slab applications. The cable is secured to the remesh with zip ties and then the concrete is poured. The heating cable warms the concrete slab, providing efficient warmth for a variety of floor surfaces. This is a highly effective and efficient system that is commonly installed to heat basement floors.
The paper thin FilmHeat floor heating element requires no floor build up and can be cut on site. This unique system can also be installed to heat existing floors. If you have access to your floor joists, you can install the RetroHeat film heating element system. The heating panels are stapled up between the floor joists and then batt insulation is installed over the panel to direct all of the heat up to the floor. This floor heating system is not difficult to install and provides moderate and regulated warmth that is best suited for laminate surfaces.
Warmzone offers several other radiant floor heating options for residents in the Sun Valley area. (Hydronic systems are also available.) To learn more about the available options, and what would be best for heating your home, call and talk with a friendly floor heating expert today. We're happy to answer any questions you may have – without any pushy sales pressure. Our free consulting is just one of our services. Warmzone offers free installation training and support services. Additionally, our experts will provide a detailed system design and layout, so you'll have all the electrical and layout information prior to any installation.
Call 888.488.9276 today.