Sun Valley Radiant Driveway Heating Systems
Shoveling snow from the driveway and sidewalks during winter in Sun Valley is no small task. While this is still the most common way of dealing with snowfall, some business and homeowners are turning to automated snow melting systems to ease the stress of Idaho winters.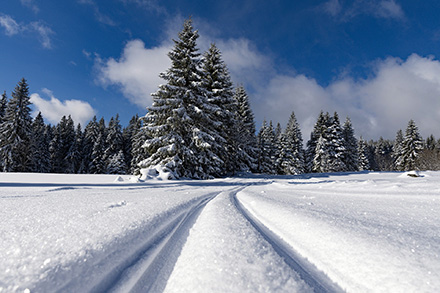 Radiant heating systems work by generating heat under the driveway and warming the pavement so that snow does not accumulate during snowstorms. Electric heated driveways use heat resistance cable, either in mats or separate cable off spools, that are embedded in the concrete, asphalt or under pavers. The mats feature pre-spaced cable and can be quickly rolled out for easy installation.
Snow melting systems are fully automated, so they only operate when conditions warrant. As snow hits, the system activates to prevent snow buildup. After the storm the system remains on for a few minutes to dry the driveway. This "afterrun" function is a safety feature that prevents ice from forming. Heated driveways not only eliminate the need for manual snow removal, they also reduce the need to use salt or other snow-removal chemicals on the driveway. This greatly reduces the amount of corrosive damage that the driveway absorbs, and also protects surrounding grass and shrubs from the harmful runoff of snowmelt chemicals.
Finding the Best Snow Melting System
There are several factors to consider when searching for a snow melting system. While purchasing the most proven system components is crucial, it's vital to deal with a provider that includes complete system design/layout and support services. The design should not only show the layout of the heating cable and components, but include all the technical and electrical information, such as the proper load calculations, breaker sizes, number of breakers, etc. And keep in mind that in order to ensure that the warranty remains valid, a licensed electrician must connect the system.

Consumers should call and speak with a radiant heat expert to gain a basic understanding of the system, and learn what options are best. Warmzone is happy to answer any questions you may have – without any pushy sales pressure.
The Installation
Installing a heated driveway is not difficult, but it is imperative to install the system correctly. Knowing the importance of proper installation, Warmzone includes free installation training with each system. We also provide free support for installers during the install. If any questions arise they can simply call our support staff and we'll address the issue at hand.
Roof Heating
In addition to our industry leading snow melting systems, Warmzone also offers proven, premier quality roof deicing and gutter trace solutions. Our roof heating products are proven systems that have been installed in residential and commercial applications throughout the country. From thin roof heating panels that are installed discreetly under roof shingles to self-regulating heat trace cable for gutters, roof edges and downspouts, Warmzone has the products, technology, and experience to provide consumers with the most effective and trusted roof deicing systems available. For more information, call a roof heating expert today at 888.488.9276.
Radiant Floor Heating Systems
Warmzone carries one of the largest selections of floor heating systems in the industry. But why do we carry such a large selection? Each system features its own unique heating element with benefits and characteristics that make it particularly well suited for certain applications or floor types. With so many floor types and heating options available today, it makes sense to provide a wide selection of the best radiant floor heating systems. This ensures that customers receive the best system for their project.
Whether you're looking to heat tile, hardwood, laminates, or carpet, Warmzone can recommend the ideal system for your needs. Floor heating systems can be easily customized, and with Warmzone's professional design team, vast product selection and support services you're sure to get the system that's best for your home. Visit our floor heating web page to learn more, or call a floor heating expert at 888.488.9276.
Industry Leading Systems ● Local Installer Network ● Free Training ● Unmatched Customer Service